A b o u t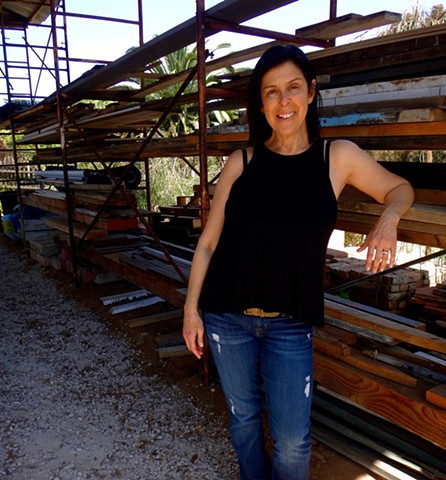 Alicia Dunn, b. 1960, Havana, Cuba. A contemporary abstract painter, Alicia creates spirited paintings which capture the energy of the natural and not-so-natural urban world. Her work springs from her unconscious and takes her to unpredictable places. Inspired by the ocean, graffiti, Basquiat, cracks in the sidewalk, artists of the mid-century, The Rolling Stones and the forest understory (to name a few), her work achieves a luminosity that is both invigorating and serene.
Like life itself, each painting shifts with the light and the perspective of the viewer. You'll get lost in the tranquil and luminous colors; feel the motion of the waves, the energy of the city, the promise of a new day. Her work brings life to a blank wall and will engage your imagination.
Alicia works in water-based acrylic paint and improvisation with the only certainty being the uncertainty of the outcome. Raised in 70s Brooklyn, NY, Alicia's first career was in advertising before she retired and became a full-time working artist. She currently lives outside of San Francisco with her husband and their lab-mix Tosh. She is represented by UGallery and her work has been carried by Williams Sonoma Home, Crate and Barrel and 1stDibs. Her work is collected internationally. Residential and commercial commissions accepted. Learn more about Alicia Dunn in The Washington Post. and UGallery.
UGallery | 1stDibs | Prints available through iCanvas and McGaw Graphics | Instagram | Facebook | Pinterest